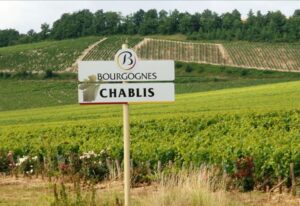 Chardonnay stands as the world's most beloved white wine by wine enthusiasts, offering wine lovers a versatile canvas. It thrives in diverse locales, providing winemakers unparalleled stylistic freedom that few other grape varieties can match.
Nevertheless, Chardonnay truly shines when it expresses its unique voice, narrating tales of vintage and terroir like no other grape can. These wines are crafted across the globe, typically in warmer regions from France and North America to Italy, Australia, South Africa, and New Zealand. The buttery taste in many Chardonnay wines comes from a process called Malolactic Fermentation which is not done for Chablis.
France, as Chardonnay's birthplace, boasts a remarkable legacy, with Chablis, a charming town in the heart of Burgundy, laying claim to the most exhilarating and distinctive dry white wines globally. These Chardonnays are distinguished by their remarkable crispness, distinct minerality, and an exceptional capacity to mature gracefully. A coveted attribute in top-notch Chablis is a prolonged, tingling conclusion characterized by high acidity and a mineral essence reminiscent of flint. Chablis is a realm where the allure resides in the subtle yet beautiful distinctions among vineyards, wine producers, and their wines.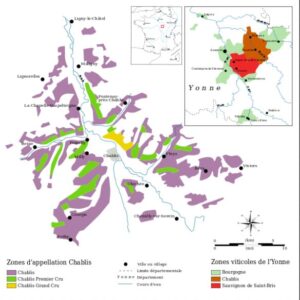 Chablis, a French dry white wine crafted from the white wine grape variety Chardonnay in the cool climate of the Burgundy region. Appellation d'Origine Contrôlée (AOC) is a classification that recognizes the quality of a terroir, a characteristic expression of a varietal, cultivation practices developed over centuries and a specific microclimate for a given territory. There are four types of Chablis (AOCs)
Chablis
Chablis Premier Cru
Chablis Grand Cru
Petit Chablis
Renowned as unoaked Chardonnay for not using oak barrels, Chablis wines showcase pronounced salinity, minimal residual sugar, exceptional minerality, and a captivating terroir essence. What sets Chablis apart starts with its very foundation. Nestled at the northern limits of the cooler climate of Bourgogne, Chablis rests on the distinctive, crumbly, chalky soils of Portlandian and Kimmeridgean limestones in the Paris Basin. Any wine bearing the Chablis label must hail from Chardonnay grapes cultivated near the town of Chablis. The cool Bourgogne climate contributes significantly to Chablis's unique character.
Elevation plays a crucial role in Chablis. The upper slopes on both sides of the Serein river feature the Portlandian limestone, which forms a protective cap with its brown limestone and sandy patches. This higher elevation and slightly cooler aspect provide a home for the Petit Chablis AOC. These wines, characterized by their pale gold hue, offer aromas of white flowers, citrus, and often a saline touch, making them a delightful companion to seafood.
Beneath the Portlandian, the Kimmeridgean limestones and marls define the Chablis AOC, marked by the presence of tiny, fossilized oyster shells (Exogyra virgula) that bear witness to the warm oceans of the Jurassic period. These geological features contribute to the crumbly soil texture and impart unique characteristics to the wines.
Chablis AOC wines tell a distinctive tale shaped by the region's semi-continental climate, geological composition, and slope. Evoking lime flower, acacia, and earthy, herbal, and savory aromas, these wines build upon the elements found in Petit Chablis. They possess a fuller body with richer flavors while maintaining Chablis's signature vibrant acidity, striking a harmonious balance and elegance. These are wines with aging potential, often touched by oak, revealing exotic anise and spice notes, reminiscent of Chenin Blanc, Sauvignon Blanc, or Pinot Grigio.
In 2020, global warming's impact was evident in Chablis, with hot, dry conditions resulting in an unusually early harvest. Yet, Chablis persevered, delivering wines marked by their hallmark acidity, balance, and freshness.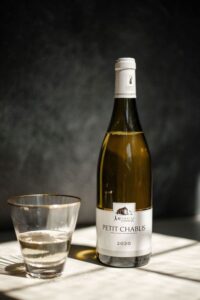 Domaine Mosnier, by Stéphanie Mosnier, is a cherished producer in Chablis. Their wines offer an opportunity to experience Petit Chablis and Chablis AOC firsthand, reflecting a commitment to preserving terroir, nature, and estate biodiversity through their High Environmental Value 3 (HVE 3) designation. Regardless of the appellation, their wines are crafted with meticulous care, featuring hand-picked grapes, whole-cluster pressing, and fermentation using indigenous yeasts.
Petit Chablis from Domaine Mosnier is a great choice and exudes aromas of green apple and pear, complementing the bouquet of white flowers and citrus. It presents an airy and elegant profile, delivering more than expected from a Petit Chablis.
Further down the slope, where crumbly textures and 150-million-year-old oysters shape the terroir, Domaine Mosnier Chablis is an elegant wine and reveals a more intricate character. Herbal and minty notes join the ensemble of white flowers and citrus aromas. With a deeper texture and the classic Chablis acidity, it demonstrates the fidelity and nuance of the terroir.
The hallmark of Chardonnays from Chablis lies in their capacity to showcase terroir variations while unmistakably embodying the essence of Chablis: beautiful, balanced, and whole.
We invite you to savor a glass of Chablis and appreciate the elegance of this remarkable wine. Looking for a food pairing? Chablis wine are delicious with chicken, quail, goat cheese, fruit, trout, and other seafood. Explore our selection of outstanding Chablis wines through single-bottle purchases in our online wine store or join our natural wine club to embark on a journey into the world of biodynamic wine. Cheers to discovering the diversity of Chardonnay through the lens of Chablis!